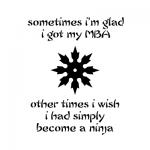 Hating MBAs is in fashion these days. I'm sure by now you've heard of Guy Kawasaki's famous adage .
For a rough approximation of your valuation, circa 2004, you can also use Kawasaki's Law of Pre-Money Valuation: for every full-time engineer, add $500,000; for every full-time M.B.A., subtract $250,000.
Every developer I know that wants to start a company thinks this is the greatest formula ever developed. Truth be told it's pretty amusing and probably not far from the truth. As I've said before there are no absolutes .